This past Friday I saw Sabotage's underhood LED lights on his JKU when we were airing up and I realized that I needed to up my game since I have zilch for underhood lights. My TJ's OEM light fixture was still there, but inop (can be had for about $12-15 online) and I had never cracked it open since buying it. I got out my tester, pried the cover with my knife (1 x prong in each corner), saw my old bulb was blown, but I had good power still. Okaay, off to Amazon I went.
I bought the following light (comes in pairs) for less than $7 and waited for USPS to deliver.
While waiting, I got the rest of equipment in order.
- 5 ft of 16 AWG x 2 (pos / neg)
- 1 set 16-14 AWG male / female bullet connectors for the positive wire (to quickly disconnect when I'm working under the hood for extended periods)
- 1 x 16-14 AWG ring terminal
- Loom and cable ties for it all
- 1 x 561 bulb (explained below--but broke my original)
- Wire Strippers/crimper
- Dremel / rotary tool
- Test set (I've already figured it out, so you really shouldn't need...)
30-45 minutes of time
Skill level? Well, I did it...so amateur to FNG at electrical.
Okay, got the lights in. They came with double sided mounting tape. Only sad faces is that they use 22 AWG (or smaller) wire. Noted.
Washed off the mounting areas with Windex and mounted up. You can also see where I ran the lead wires (came with 18-24"s) down the structural center.
About midway down the hood is where I brought the leads out. I combined (twisted) both the 2 x negatives and 2 x positives together to strengthen that wire. From here to the OEM light / power source, it would be 16 AWG wire. Note the female bullet connector (lowest blue connector in photo; this is my quick disconnect point for when my hood is up for an extended time.
One mistake here!
See where I grounded the negatives (the screw), forgetaboutit. Those negative wires are going to run ALL the way from the LEDs down to the OEM light fixture (if you want the auto on / off feature to work). I found this out later...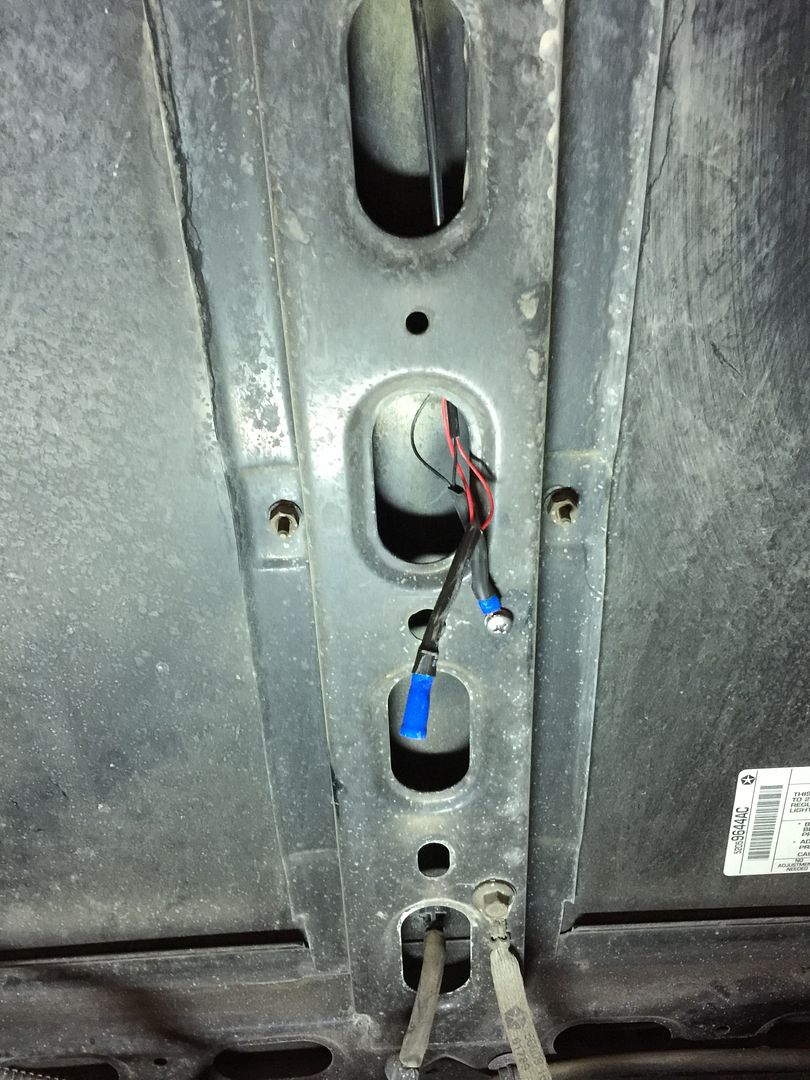 OEM light fixture--you need to carve out a hole in the lens for both the pos / neg wires--so two separate holes. A rotary tool / Dremel will make short work of it.
Okay, I installed a male bullet connector (not shown) on one end of the positive wire and a small ring connector (for the OEM light fixture) on the other end. Pic below shows it hooked correctly over the positive terminal.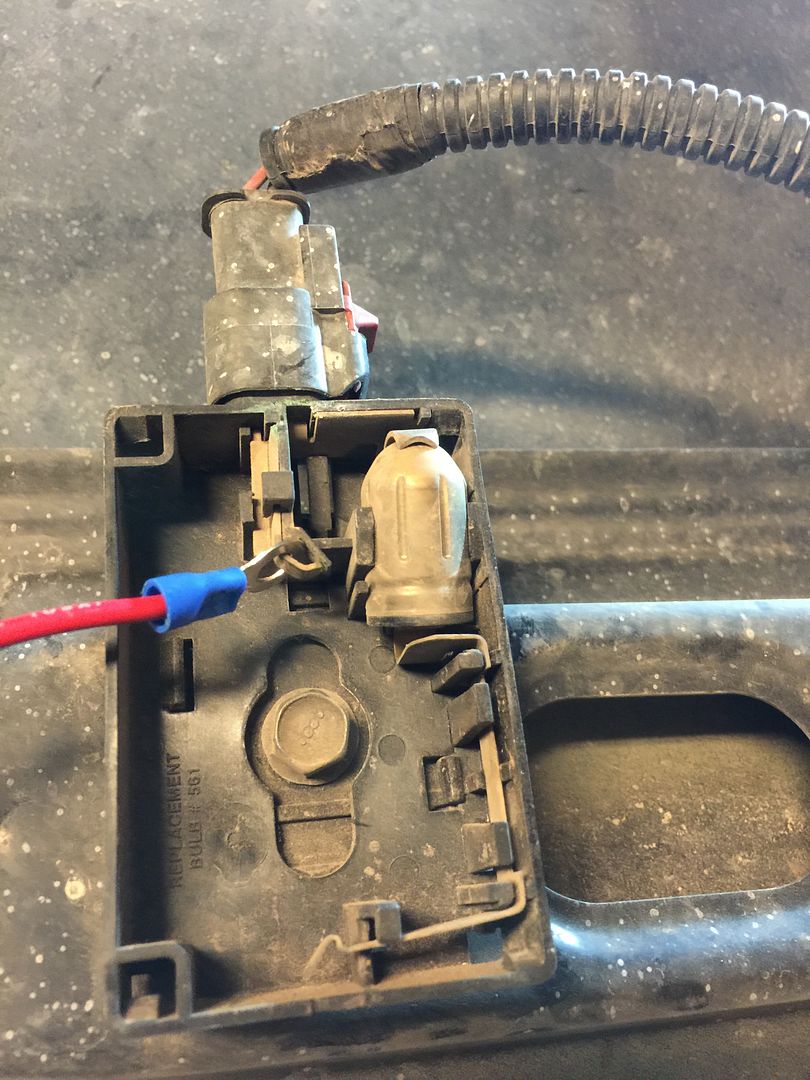 Okay, that negative wire (coming from the LED lights needs to go into the light fixture as below. I simply stripped an inch of wire, looped it around that metal arm, and twisted / wrapped it to secure it. Notice where those wires are going over the edge of the box? That is where you should approximately carve/grind the holes in the lens with the Dremel.
Also--notice the "bullet" in the top right? That is the gravity switch that runs the negative. When you close the hood, it disrupts the negative and the lights go off.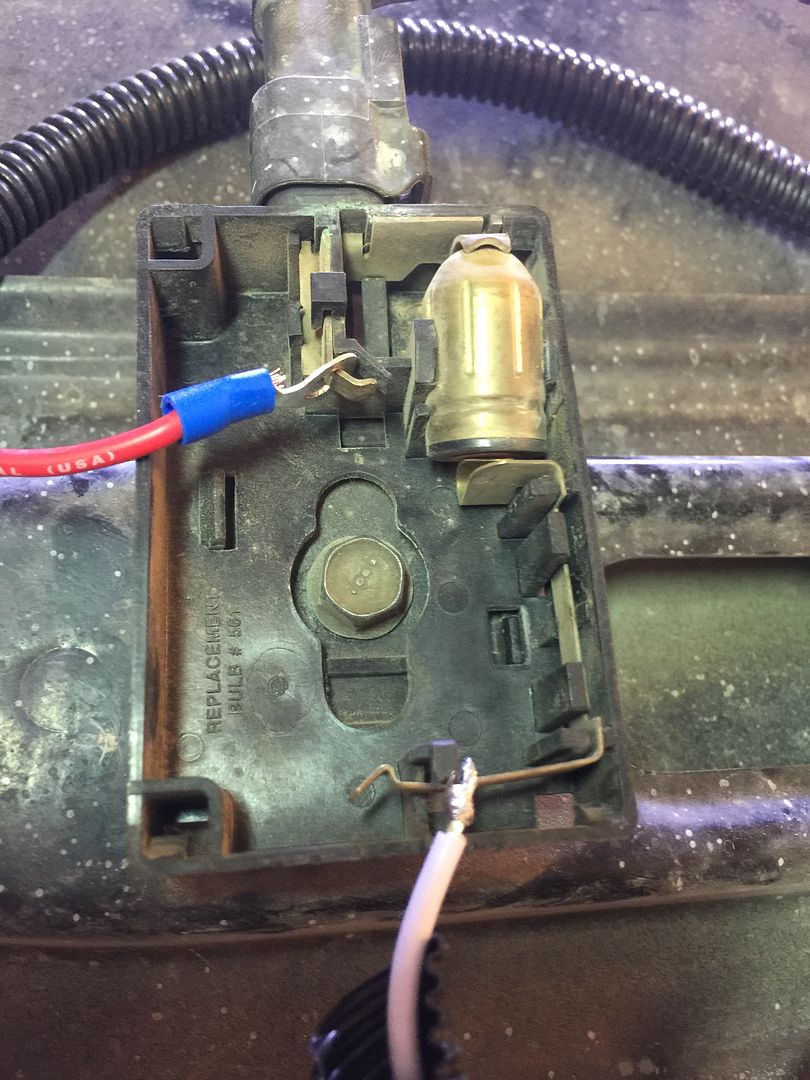 How the lower section looks all loomed up. Only things missing here are the OEM bulb and the cover / lens.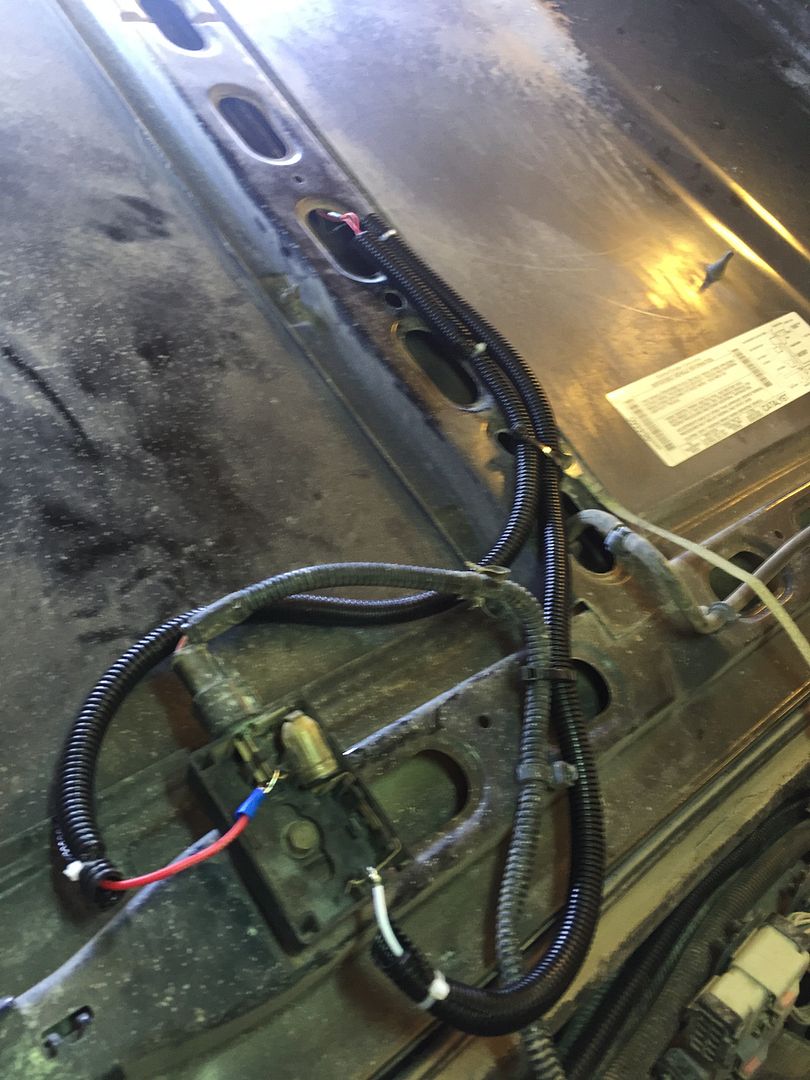 OEM bulb installed. I do not care if it works--I am using it it as retainer for the wires I added on to its positive / negative terminals. Note: my original bulb was burned out...it crumbled on me as I went to reattach it. Damn it Murphy. Off to O'Reilly's I went...bulb # is 561.
Cover is back on, everything working (weird lighting on my LEDs is because the hood prop is stowed in front of them in the pic)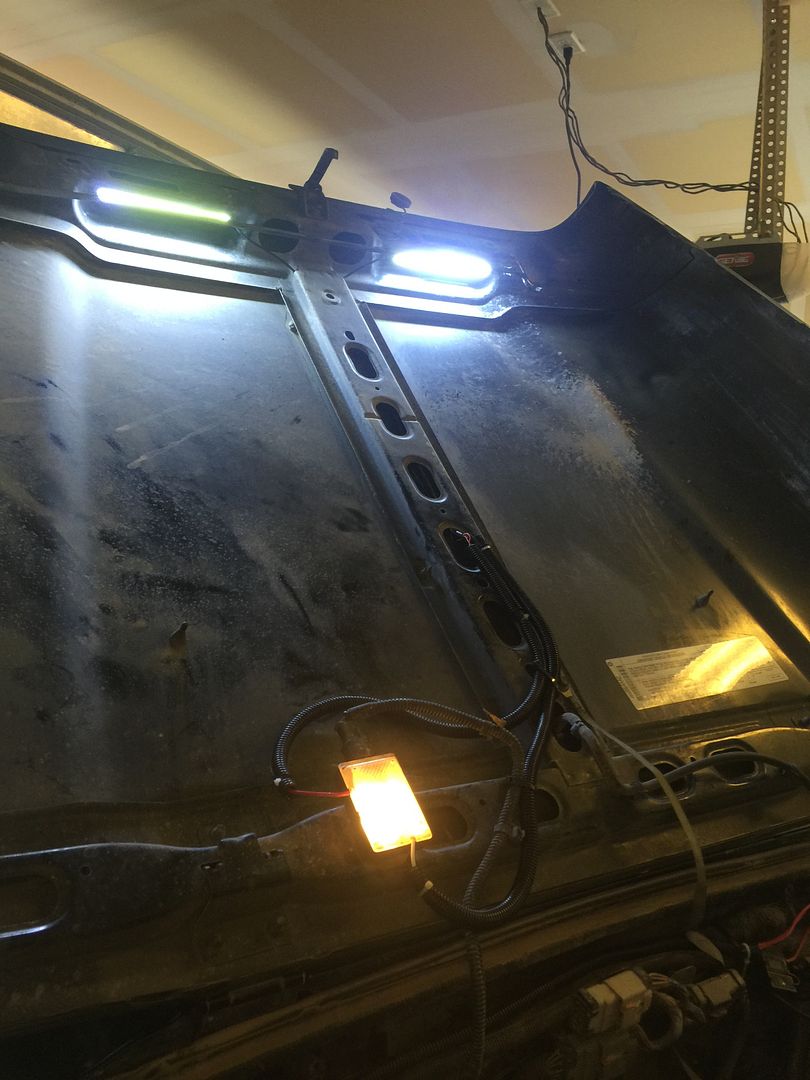 Looks like daylight--it isn't. It is in my garage with the overhead lights off. Noice.
Bam. Right about there, both the OEM underhood light and my LED add-ons go off automatically.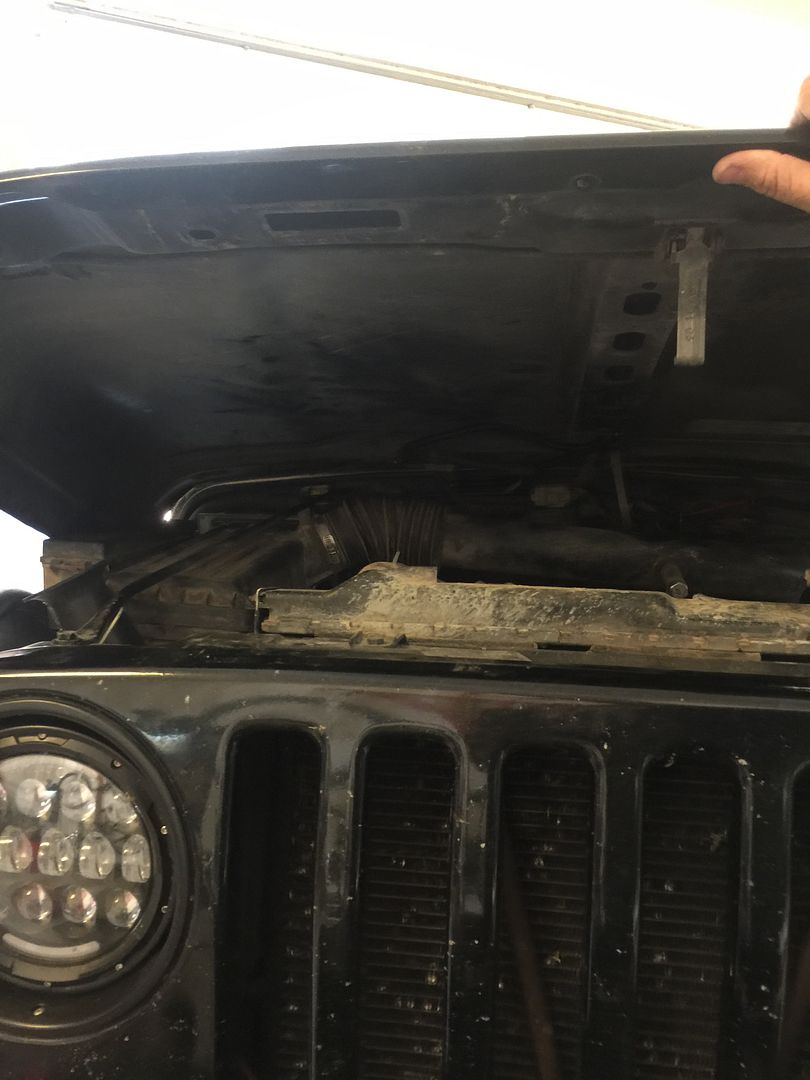 The offending bulb replacement (package of 2--I have a second 561...anyone need it?)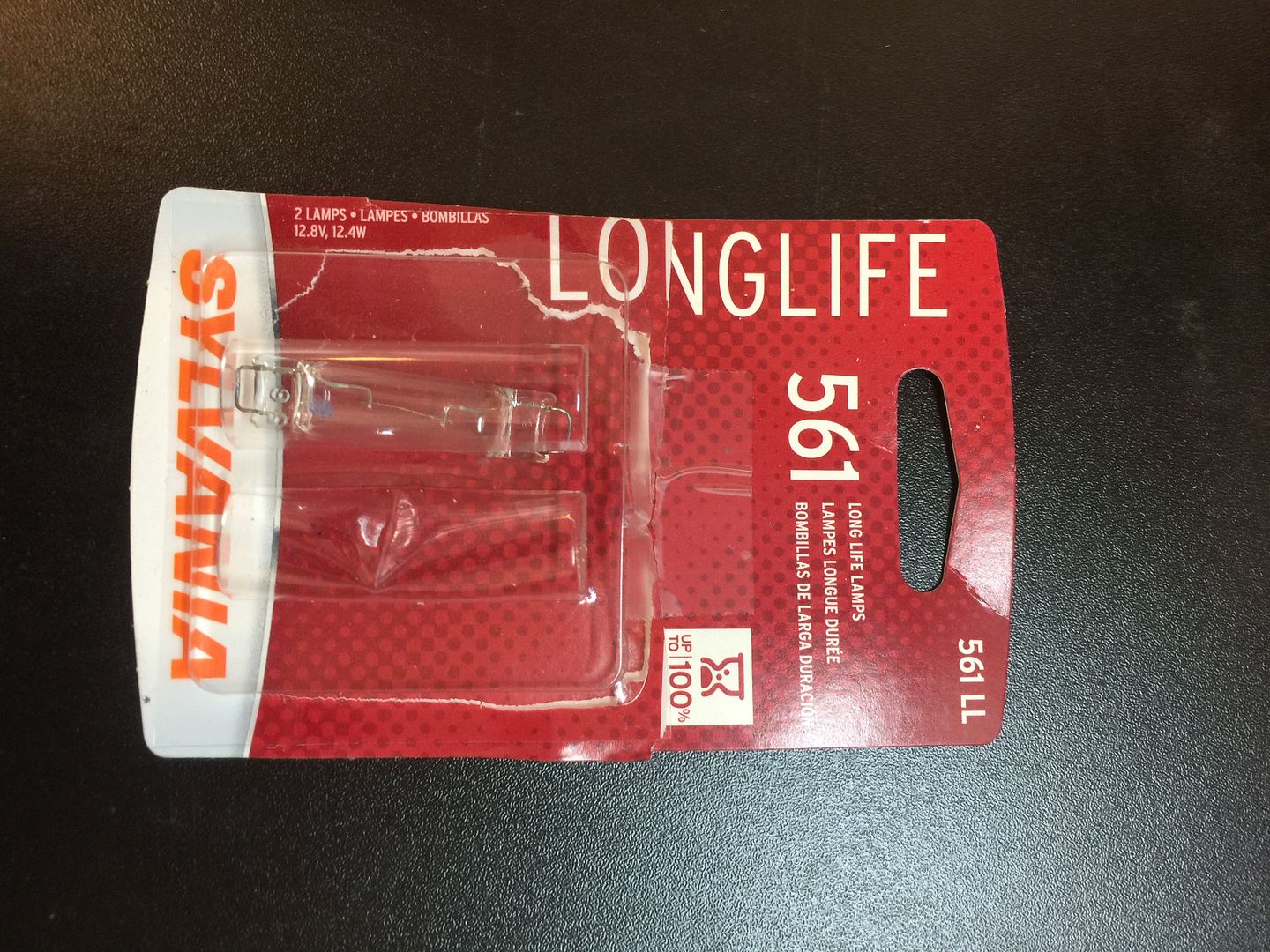 That is it. Another project complete.