Colonel
Posts: 664
Joined: Tue Jun 17, 2014 5:00 pm
Sweet!! Super jealous


Sent from my iPhone using Tapatalk
How much C4 do we actually need?? Ummm 6 blocks........ Screw it lets use 96
---
General
Posts: 1058
Joined: Thu Jun 19, 2014 5:37 pm
I haven't done to much to the van but did get my new did cover on. Pretty funny since it's so different than what any of us would put on our Jeeps. It's a finned aluminum cover that sticks out further than stock. It's great for towing and hard use since it adds almost a quart of capacity, but I'll have to be careful in the rocks.
Here's a picture of my van next to my buddies just for fun. His is on 37's with a taller lift.
Sent from my SAMSUNG-SM-N910A using Tapatalk
'93 YJ
---
General
Posts: 1058
Joined: Thu Jun 19, 2014 5:37 pm
For you non Facebook people I thought I'd post a few pics here for you from my Death Valley trip last weekend.
Sent from my SAMSUNG-SM-N910A using Tapatalk
'93 YJ
---
Dang that 4wd does an amazing job! I have never seen a van that could hang upside down like that
Looks good man!
---
General
Posts: 1058
Joined: Thu Jun 19, 2014 5:37 pm
Haha! Weird that it did that.

Sent from my SAMSUNG-SM-N910A using Tapatalk
'93 YJ
---
General
Posts: 1058
Joined: Thu Jun 19, 2014 5:37 pm
Well, it appears that I haven't done any updates in a reeaaallly long time so here goes...
I had a bunch of engine work done to increase the performance and reliability. New 160 cc single shot injectors, new glow plugs and harnesses, 4" exhaust, new fuel pump along with adding another pump/filter to increase pressure and filtering ability, new water pump and hoses, new radiator and t-stat, new starter, new power steering pump, had West Texas Offroad rebuild and port and tap my steering box, had some EGT and fuel pressure gauges added and a coolant filter.
Here's the gauges:
Next up was to ditch the very small van tranny cooler for the 6.0 truck tranny cooler. You can see the stock one hanging down...huge difference in temps!
Next up was flooring. We cleaned the floor, painted it with Chassis Saver (same stuff we used on the Jeep tub), laid down a butyl/metal insulator, cut down some cabinets I got from Ben and installed a VanTred (pre-molded to floor of the van...super easy).
Here Kim is removing a small part of the insulation that the previous owner had already installed in the whole van so we could install the cabinets.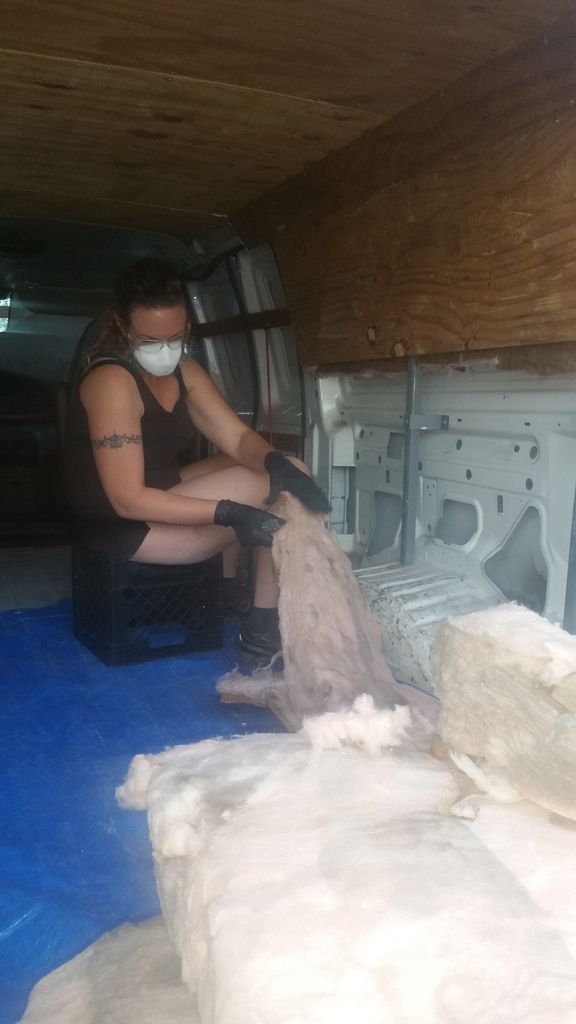 Chassis Saver done.
Butyl/metal insulator stuff laid down. It does reduced some heat from coming in but it's main purpose is vibration and sound deading.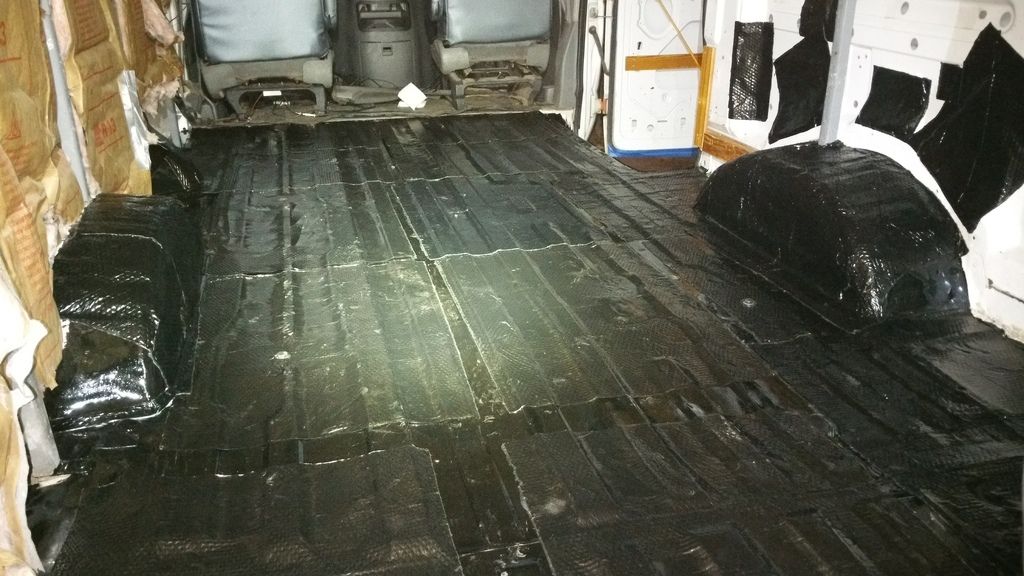 Then the VanTread. It's kinda like a durable plastic on type with closed cell foam underneath.
Had to install some more secure latches to keep the cabinet doors from opening and ripping off (found that out the first trip out..lol).
I wasn't ready to buy bumpers yet but found a really good deal on a custom built aluminum front bumper.
Out with the old:
In with the new. The front facing lights are amber...I'm not sure if I will change them out yet. The side lights are pretty cool for setting up camp in the dark.
I had bought a bunch of cheap tires to get me started and see what would fit. Unfortunately I was destroying them at a fast pace so it was time for some new ones. Luckily the old ones showed me I could run a true 35 x 12.5 x 17 with minor rubbing so that's what I went with...Toyo Open Country R/T's. They're a hybrid of an AT and MT...perfect for the vans uses plus they're E load (the old ones were D).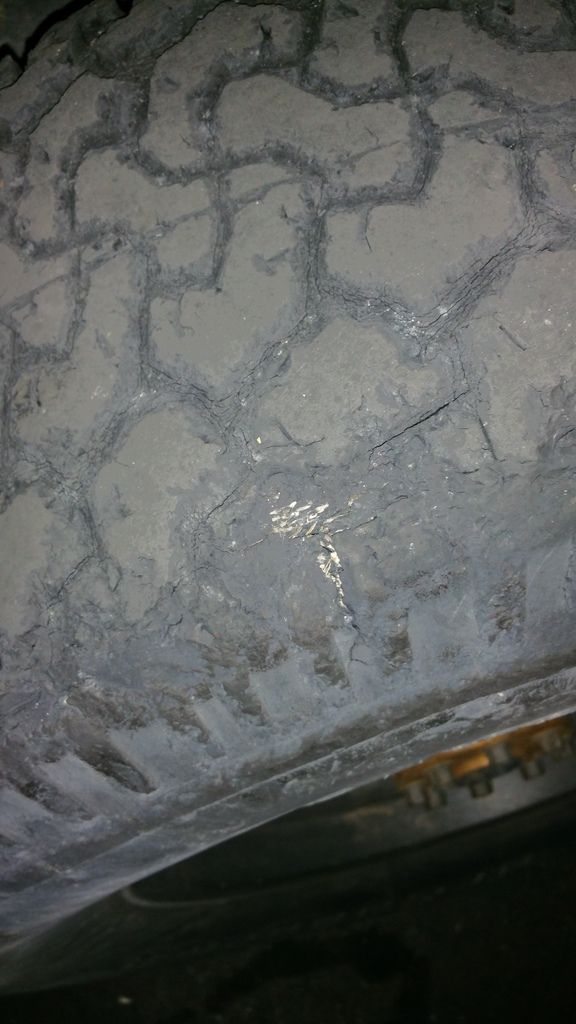 Somewhere during this time I found out the reason I had gone through 3 vacuum pumps in the last several months. The brake booster was letting brake fluid leak into it and was being sucked into the vacuum pumps and ruining them. So in went a new brake booster. Also around this time I had some charging issues so it was time for a new battery and a high amp alternator. I forget what stock was (somewhere around 130 peak) but the new one puts out 139 amps at idle and a peak of 202.
Next up was the rack and solar panel install...but I think I'll do that write-up after the Marathon so stay tuned
'93 YJ
---
Wow, you HAVE been busy; I sure like what you are doing. Thanks for sharing!
---
General
Posts: 1058
Joined: Thu Jun 19, 2014 5:37 pm
We finally got around to the solar installation a couple weeks ago.
Had to cut the rack down first and get it painted: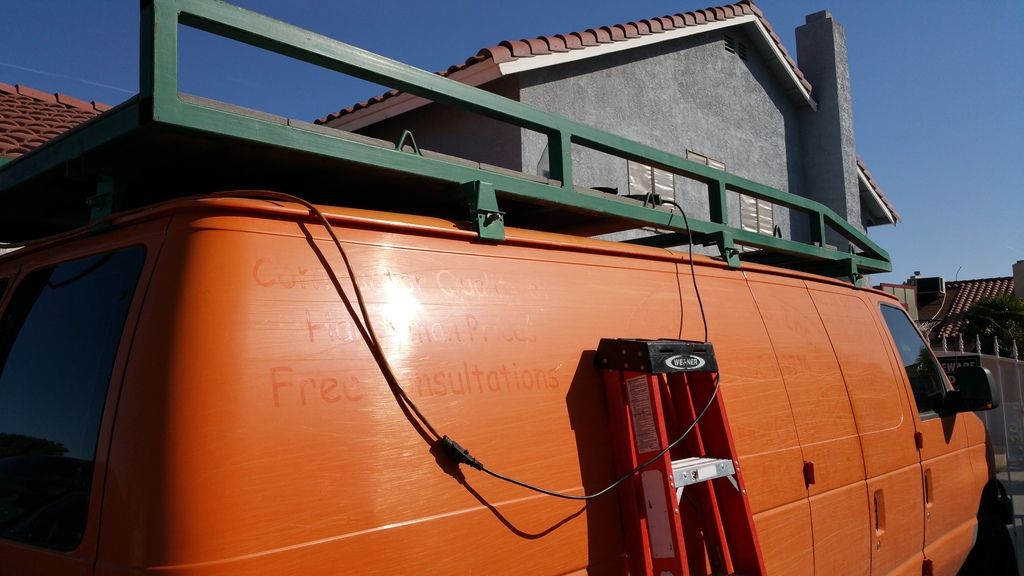 Winds were around 25 mph at times but we were determined to get it pained.
And...panels mounted to the roof. We removed every other board of the Trek Decking to save weight and hopefully avoid the parachute effect when going down the freeway. Between cutting the top rail of the rack off and removing some of the boards up top, it saved about 160 lbs of weight even after adding the solar panels up there.
This is where the charge controller and monitor will go.
Next update will be the mounting of the house batteries and the sliders I had custom built.
'93 YJ
---
General
Posts: 1058
Joined: Thu Jun 19, 2014 5:37 pm
Figured I'd throw up a few more updates before we switch the forum over.
Scott @ Thor's Hammer Diesel has done most of my engine upgrade work on the van so had him fab me up some sliders (that will mainly be used as steps) and a battery tray at the same time so they fit together. It was a great decision because he did a great job and I love how it turned out!
I bought two 6 volt AGM Deep Cycle batteries that are rated at 250 amp hours. Not the cheapest options but I didn't want to worry about maintaining them since they wouldn't be to accessible. Plus, I didn't know how I would mount them and as it turns out they fit better laying on their side which you couldn't do with a normal lead acid "golf cart" battery.
The sliders and the battery tray are basically flush with each other.
The sliders are built out of 2x6 box tubing and are 3/16" wall. They're really heavy but worth it since they'll be so durable. So far getting in and out of the van has been MUCH easier.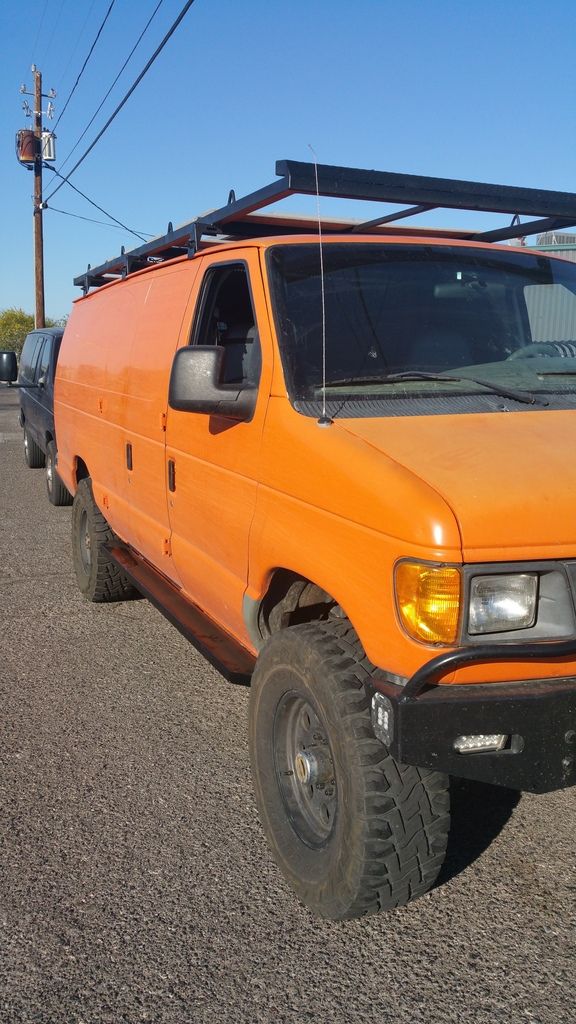 Kim having a little fun next to both of the vans...
'93 YJ
---
Who is online
Users browsing this forum: No registered users and 1 guest